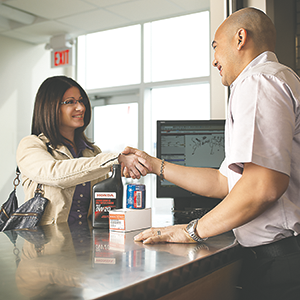 Our Services
You are proud to drive a Honda, and you would like to enjoy the exceptional driving experience your vehicle provides you with for years to come. To avoid unnecessary and unforeseen expenses on your Honda vehicle, be sure to choose the Sherbrooke Honda service department! Our certified Honda service centre in Sherbrooke, staffed by a team of qualified, courteous advisors and expert technicians. They are trained by the manufacturer to carry out the finest Honda maintenance and repair in the Eastern Townships in accordance with Honda Canada's elevated quality standards.
The installation of genuine Honda part and accessories is also essential to preserve your vehicle's good running order. Sherbrooke Honda is also your source for tires in Sherbrooke and the Eastern Townships, as we carry the biggest brands at unbeatable prices. What's more, we offer a number of car detailing packages, and our no-charge shuttle or limousine service is always available to accommodate you.
Our team is here to answer all your questions about our Honda after-service, whether it's by email or by telephone. Please don't hesitate to schedule a service appointment online today!
Maintenance and Repair
Our maintenance and repair centre for Honda and off-make vehicles is equipped with the latest diagnostic tools, including a laser-equipped wheel geometry and alignment machine which is more precise and optimizes safety, fuel economy and tire durability.
Sherbrooke Honda prioritizes the proper training of its Honda technicians, whose technical knowledge and abilities are tested and updated regularly through online and in-person training sessions.
We offer Honda mechanical services for all your vehicle's components:
Windshield
Audio and video system installation
Air conditioning
Tires and alignment
Mufflers, brakes and suspension
Steering
Radiator
Transmission
Engine
Chassis
Rustproofing
Paint
Remote starter
Tinted windows and engraving
Parts and Accessories
Sherbrooke Honda offers one of the largest inventories of Honda parts and accessories in Sherbrooke and the Eastern Townships.
We offer you a wide selection of competitively priced original Honda components, parts and products to repair your vehicle according to Honda Canada's elevated quality norms, and we also offer a choice of superior-quality refurbished manufacturer's parts so you can save on any repair. Speak with one of the technical advisors at Sherbrooke Honda to learn which parts should be used for your Honda.
Find out as well about our transparent plastic film, which protects your vehicle's paint finish against scratches and wear.
Tire Centre
Our tire centre in Sherbrooke meets all your needs for your summer or winter tires. Our selection of tires for cars, trucks and vans is offered at very competitive prices, and we carry all the major brands: Toyo, Michelin, Bridgestone, Goodyear, Firestone, Dunlop, BF Goodrich and more.
To learn more about our choice of tires, you can send in an online information request, or call us.
Detailing Centre
Sherbrooke Honda is your first-choice Honda detailing centre in Sherbrooke and the Eastern Townships. We offer the complete range of professional interior and exterior cleaning and maintenance services for your vehicle, from a basic carpet cleaning to a wholesale esthetic overhaul of your car.
Our Sherbrooke car detailing department also offers a number of protective treatments for vinyl, cloth and leather upholstery and paint finishes, as well as rustproofing, windshield repair, and much more. We even perform cleaning, waxing and polishing of motorcycles and boats!
All our detailing work is guaranteed for three months. We use only high-quality products for the maintenance or cleaning of your car, and our technicians are specially trained to carry out impeccable work, whatever your vehicle's make or model.
Maintenance appointment